News
Hawaii Legal Services Portal Available Now!
March 8, 2017 - The Legal Aid Society of Hawaii has launched the brand new Hawaii Legal Services Portal. The portal is an online tool designed to help the public to easily locate legal resources specifically available for their type of legal issue and income level. Legal Services Providers participating in the Portal include: Volunteer Legal Services Hawaii, American Civil Liberties Union of Hawaii, Hawaii Appleseed Center for Law and Economic Justice, Legal Aid Society of Hawaii, Native Hawaiian Legal Corporation, Domestic Violence Action Center, Hawaii Disability Rights Center, Mediation Center of the Pacific and the University of Hawaii Elder Law Program.
To access the Hawaii Legal Services Portal click here.
VLSH to Host 3rd Annual Taste of Justice Fundraiser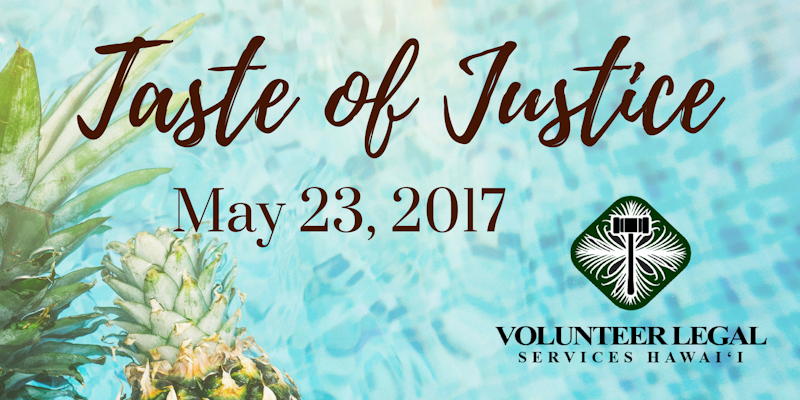 March 6, 2017 - VLSH is hosting the 3rd annual Taste of Justice Pau Hana and Silent Auction Fundraiser Tuesday, May 23 at Cafe Julia from 5:30-8PM. Tickets are $75 each and available for sale via EventBrite. If you can't attend but would still like to donate, we are also accepting donations via PayPal, just click the donate button below.
We hope to see you there!
Follow us on Facebook for the most up to date information!
VLSH Launches Hawaii Online Pro Bono
Hawaii Online Pro Bono (HOP) is a new online service for low to moderate income Hawaii residents. HOP is a web based legal clinic that allows users to get their civil legal questions answered 24/7 by Hawaii licensed volunteer attorneys. For more information on how to use HOP, watch the video below. To use HOP, users can register for an account by clicking here: Hawaii Online Pro Bono.